MELK in England
Copeland Book Market, London July 18 – 21 2013
Talk at TENT, Manchester July 23 2013
We are happy to announce that we be a part of the Copeland Book Market in London this week, on July 18 – 21, and hold a talk with TENT in Manchester on July 23.
Copeland Book Market is an art book market in a unique location in Peckham, London, with over forty publishers from across the world. Including an events programme of talks, screenings and performances, the Copeland Book Market offers publishers and artists an opportunity to showcase the best of their recent work.
For the Book Market we are curating a Scandinavian table where we have invited Lodret Vanret from Copenhagen, B-B-B-Books from Stockholm and Cornerkiosk press from Oslo. In addition we are bringing along recent books from artists we have worked with through the gallery such as Morten Andenæs, Bjarne Bare, Espen Gleditsch, Katinka Goldberg, Christina Leithe Hansen, Kristine Jakobsen, Sveinn Fannar Jóhannsson, Ola Rindal, Emil Salto and Verena Winkelmann.
The Book Market is found at:
Bold Tendencies
95A Rye Lane
London SE15 4ST
Thurs – Fri 5-9
Sat – Sun 1-7
In Manchester, we are invited by TENT to hold a talk at Islington Mill on Tuesday July 23 at 7 – 9pm. Bjarne Bare will speak about MELK, the Scandinavian photography and art scene in addition to discussing the mediums future. We hope to see you there.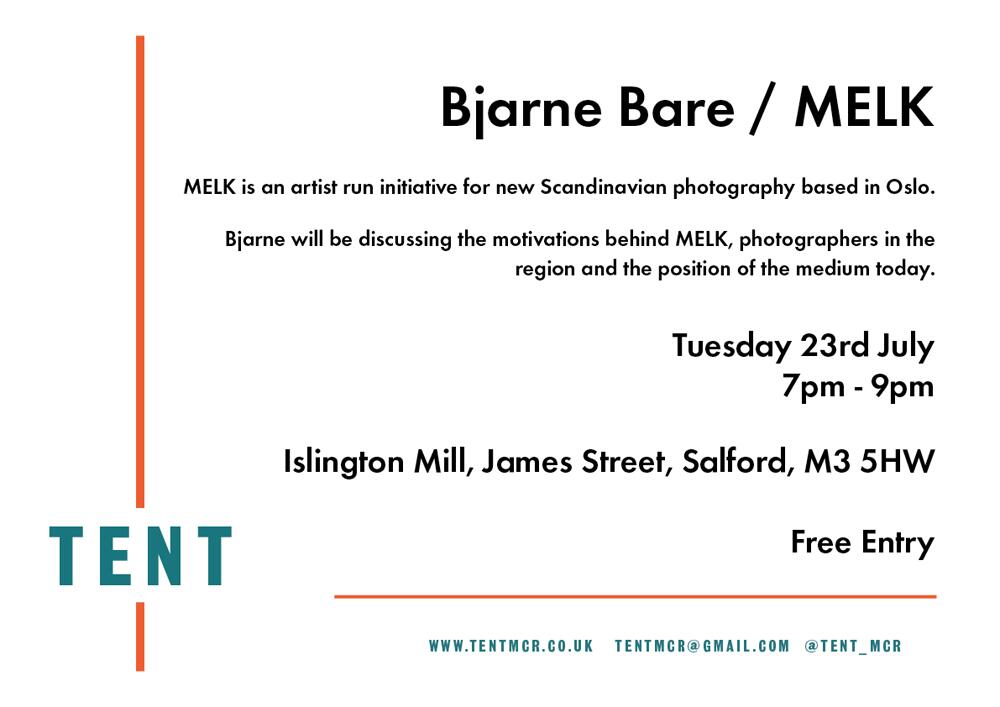 Our participation at Copeland Book Market is generously supported by the Royal Norwegian Embassy in London.